In this article, Qamar Jafari Ali of RMLNLU discusses how to tackle cyberbullying activities.
Introduction
Expansion of the World Wide Web enabled us to create our own identities on the internet, which in a way turned traditional bullying into cyberbullying. The latter is more devastating, has a greater audience and transcends physical boundaries. A recent survey by Microsoft noted that cyber-bullying was on the rise among Indian children and teenagers in the age bracket of 8 to 17. While the term cyberbullying may not be a part of an Indian youth's vocabulary yet, a significant 53% of Indian children said that they had faced negative experiences online. Unfortunately, in the Indian paradigm, Cyber Bullying is only a serious concern when it leads to extreme consequences.
This article aims at improving the reader's understanding of cyberbullying and why we need to acknowledge it as a serious crime.
Understanding Social Media Vulnerability
Dr K Jaishankar who is the editor in chief of the International Journal of Cyber Criminology defines cyberbullying as:
"abuse/ harassment by teasing or insulting the victims' body shape, intellect, family background, dress sense, mother tongue, place of origin, attitude, race, caste, or class using modern telecommunication networks such as mobile phones and Internet."
This definition can be narrowed down into three components.
Teasing words or gesture.

Motive/Intention to diminish or attack the identity of a person.

Conveying the same to a wide audience via telecommunication or the internet.  
This gives us an idea that any threat to a person's identity via telecommunication and internet comes under the ambit of cyberbullying. Now let us look at the definition of Social Media as defined by D.M Boyd and N.B. Ellison in their book, Social Network Sites: Definitions, History and Scholarship[1] and try to understand the clashes in both the definitions.
Social Media can best be defined as web-based services that allow individuals to
Construct a public or semi-public profile within a bounded system.

Articulate a list of other users with whom they share a connection.

View and traverse their list of connections and those made by




others within the system.[2]
The clash is between the social identity transcending from our real identities on these platforms. Any threat to it becomes a threat to our identity. Therefore, these social media platforms which act as a trolling hotspot these days, make us vulnerable in a very inquisitive way.
Statistics
Cyberbullying spreads across various platforms and various jurisdictions. India ranks third globally in terms of cyberbullying.[3] These pictures below show some alarming cyberbullying data on average metrics.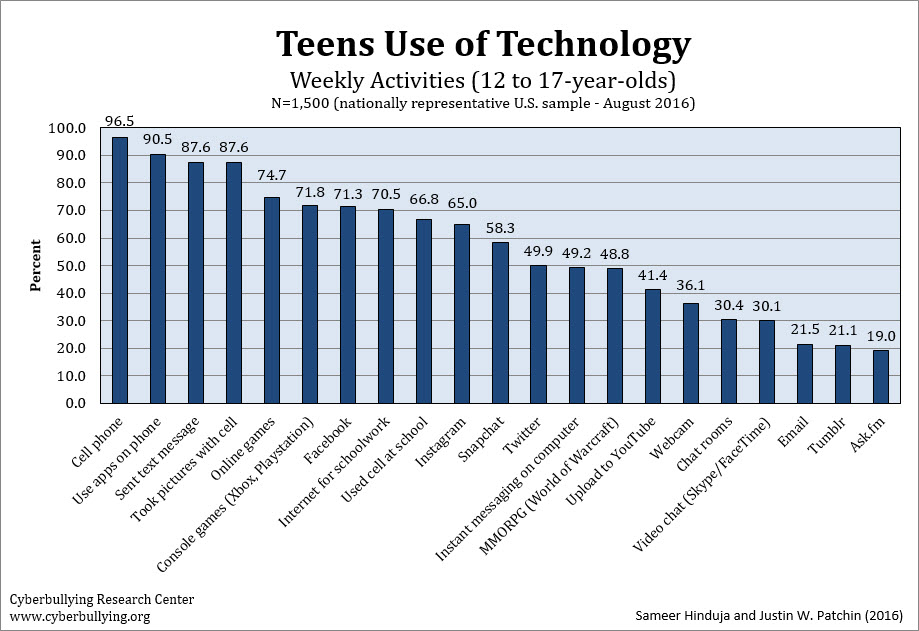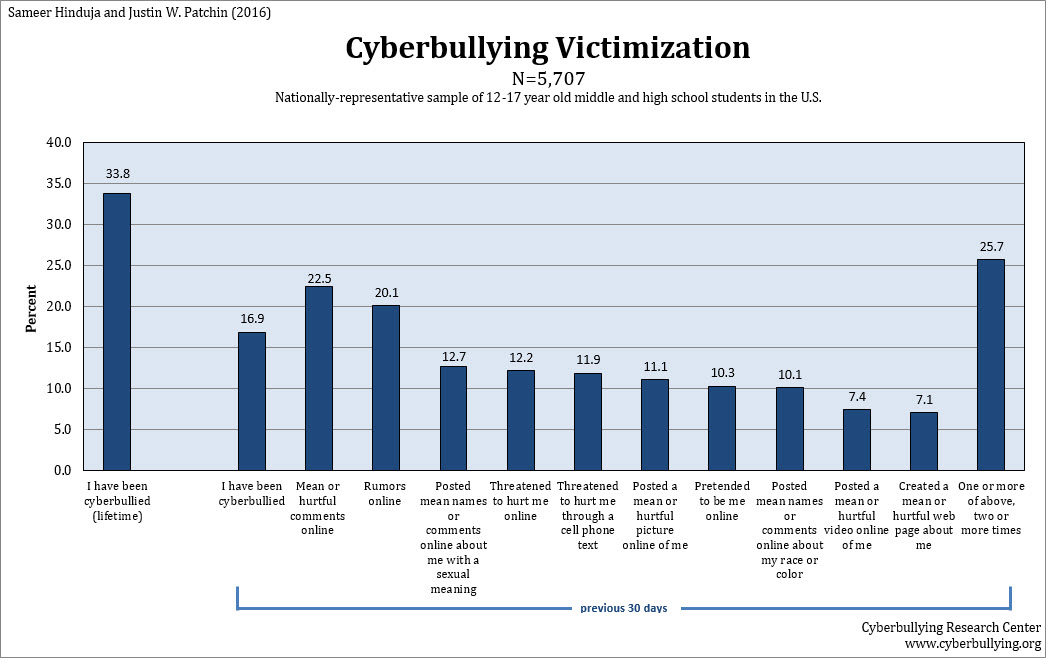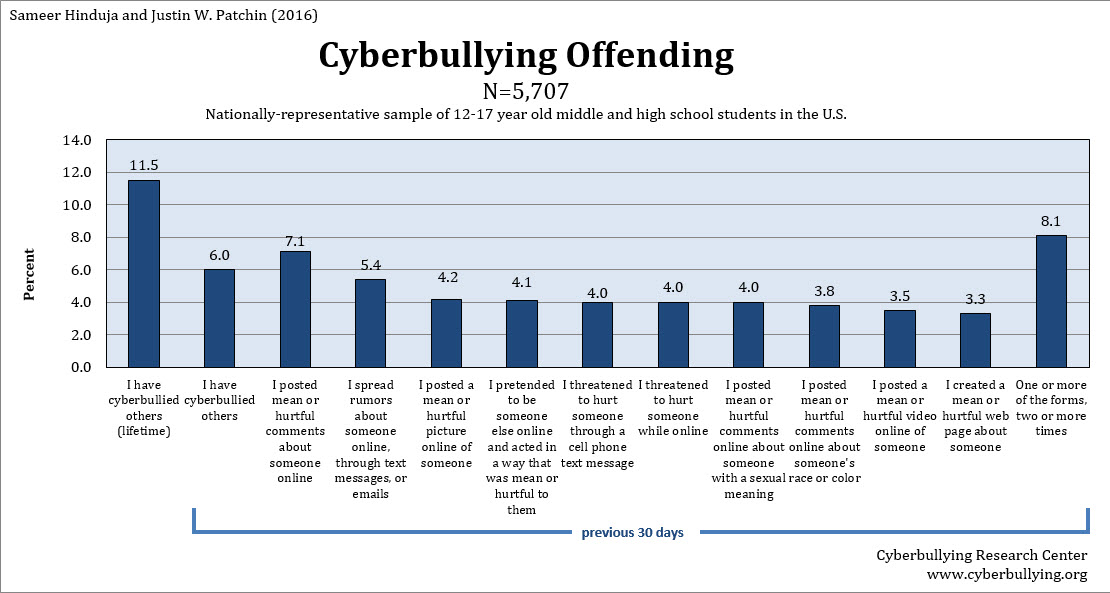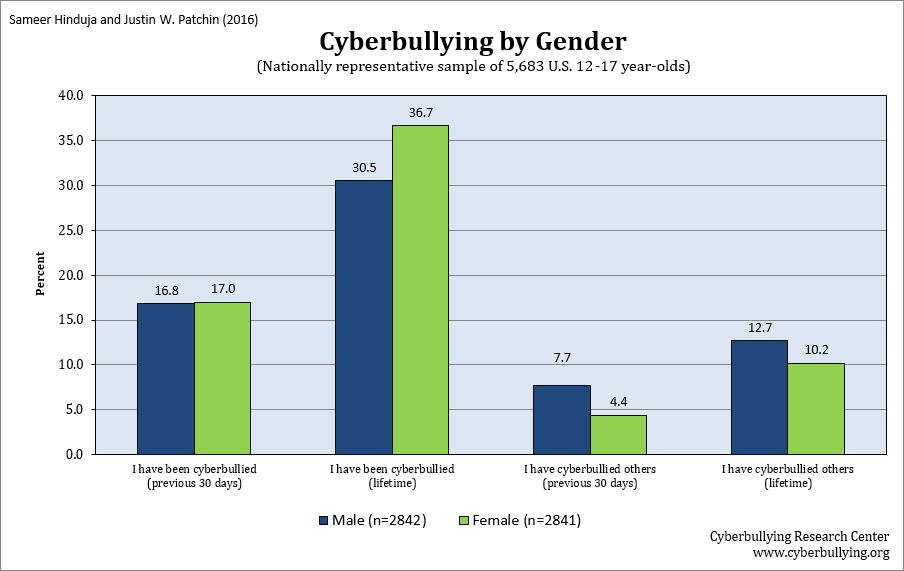 Source: https://cyberbullying.org/2016-cyberbullying-data
How to tackle cyberbullying
If it is an instance of 'minor teasing and name calling' avoid retaliating, if possible. Often it is the bully's prime objective to get a reaction from you to which feeds to his online behaviour.

Block the bully.

Social Media privacy policies are your best allies. Use them efficiently. Report the incident to the administrators.

Document the evidence.

Your parents and friends are your back up. Call them up.
Also, various organisations are running with a prime purpose of spreading awareness and combating cyberbullying such as Megan Meir Foundation, Stomp out Bullying, Cyberbullying Research Center etc. These organisations work tirelessly to provide us with a better understanding of the issue and how to get out of it.
You can reach out to the following for Help – List of Cyber Crime Investigation Cells in India
Below is a table of relevant authorities with their addresses and contact numbers which one can reach out to while facing cyberbullying.
City/State
Address
Helpline
Email/Website

1.

Bangalore

Cyber Crime Police Station, CID Annexe building, Carlton House, #1 Palace Road, Bangalore- 560001

+9108022942475

+9108022943050

[email protected]

2.

Chennai

SIDCO Electronix Complex, Block No. 3, First Floor, Guindy Industrial Estate, Chennai-32

04422502526

[email protected]

3.

Delhi

Central Bureau of Investigation, Plot No. 5-B, 6th Floor, CGO Complex, Lodhi Road, New Delhi-110003

+91114362203

+91114392424

[email protected]

4.

Hyderabad

Cyberabad

-In Charge Cyber Crime Police Station, Hyderabad City.

– ACP Inspector Cyber Crimes, Sub Inspector Cyber Crimes, IT Cell Special Branch.

04027852040

9491039167

9491039172

9491039088

04027853413

[email protected]

http://www.hyderabadpolice.gov.in/

6.

Nagpur

Cyber Crime Investigation Cell, Crime Branch, 4th Floor, Administrative Building No. 1, near Udyog Bhavan, Civil Lines, Nagpur-01

+917122566766

http://nagpurpolice.gov.in/

7.

Pune

Office of Commissioner of Police 2, Sadhu Vaswani Road, Camp, Pune – 411001

+912002026126296, 26122880, 26208250

[email protected]

/

[email protected]

8.

Mumbai

Cyber Crime Investigation Cell, Annex III, 1st floor, Office of the commissioner of Police, D.N. Road, Mumbai – 400001

+912224691223

[email protected]

9.

Bhopal

Inspector general of Police State CYBER POLICE, Bhopal(M.P)

07552770248

www.mpcyberpolice.nic.in

10.

Thane

3rd Floor, Office of Commissioner of Police, Khalkar lane, Court Naka, Thane(W)

02225410986

http://thanepolice.org/cybercell.php

 

11.

Uttar Pradesh

Cyber Complaints Redressal Cell, Nodal Officer Cyber Crime Unit Agra, Agra Range 7, Kutchery Road 232001

05622463343

[email protected]

12.

West Bengal

DIG CID III Floor, Bhawani Bhawan, Alipore, Kolkata – 7000027

03324506100

[email protected]

13.

Gujarat

DIG, CID, Crime and Railways Fifth Floor, Police Bhawan, Sector 18, Gandhinagar 382018

+917923254384

+917923250798

+917923253917

Nil

14.

Jharkhand

IG-CID, Organized Crime, Rajarani building, Doranda Ranchi, 834002

+916512400737/738

[email protected]
Legal Recourse
India is yet to have a focused law on the subject of cyberbullying. Indian Penal code was amended in 2013 to incorporate cyberstalking as a crime but that is gender specific and helpful to women only.
The following table illustrates different laws related to cyberspace crimes.
| | | |
| --- | --- | --- |
| Serial No. | Offence | Section |
| 1. | Criminal intimidation by anonymous communication | 507 IPC |
| 2. | Violation of privacy | 66E IT Act |
| 3. | Publishing or transmitting obscene material in electronic form | 67  IT Act |
| 4. | Publishing or transmitting of material containing sexually explicit act, etc. in electronic form | 67A IT Act |
| 5. | Word, gesture or act intentionally done to insult the modesty of a woman. | 509 IPC |
| 6. | Defamatory messages | 499 IPC |
| 7. | Stalking | 354D IPC |
| 8. | Making sexually coloured remarks, guilty of the offence of sexual harassment. | 354A IPC |
| 9. | Printing etc. of grossly indecent or scurrilous matter or matter intended for  blackmail | 292A IPC |
Cyber crimes have no set jurisdiction. It can be reported to the Cyber Crime Unit of any city irrespective of the place where it was committed. One can also file an FIR.
Section 66A Imbroglio
Section 66A of the IT Act bid farewell to the legal system at an early age. Section 66A was a shimmering light in the dark world of cyberbullying. The repeal of 66A was a direct result of mishandling the law under the pressure of some politicians.
Below is a table of various instances where section 66A was screwed-up to such an extent that the Honourable Supreme Court of India thought that the only way to come out of this problem is to scrap it. [4]
| | | |
| --- | --- | --- |
| Arrest | Matter | Politician |
| A class 11th student from Uttar Pradesh | Posted something linking Azam Khan with a communal incident | Azam Khan |
| Shaheen and Rinu arrested in Thane, Mumbai | Posted that the Mumbai shutdown after Bal Thackery's death was out of fear and not respect. The other one liked the post. | Bal Thackery. |
| Aseem Trivedi Arrest | Posted Cartoons that mocked parliament | |
| Ravi Srinivasan was arrested in Puducherry, 2012 | Called the son of P. Chidambaram, corrupt on Twitter. | P. Chidambaram |
| Ambikesh Mahapatra and Subrata Sen Gupta | Circulated cartoons criticizing Mamta Banerjee | Mamta Banerjee. |
| Air India Cabin crew members arrested in Mumbai, May 2012. | Posted jokes about Narendra Modi and Ors. | Narendra Modi |
| Five students arrested in Bangalore in 2014 | Forwarding Anti-Modi messages on Whatsapp | Narendra Modi |
Although the arrest was justified by many regarding the debate of free speech and hate speech, the essence of 66A to act as a guardian against the social media atrocities was missed that put it under scrutiny time and again.
Relevant Case Laws
Manish Kathuria Case – Stealing the online identity of a person is an offence under the IT Act and is a form of cyberbullying
This is considered to be the

very first

reported case

of cyberstalking in India. Also the eye opener for the lawmakers and the reason of amendment of IT Act 2000.

Manish Kathuria stole the identity of a woman named Ritu Kohli and used to chat in her name online in obscene language. He also made her contact number public in the chatroom.

He was booked under Section 509 of IPC for outraging a woman's modesty, as Section 66A was yet to be born.  
Karan Girotra v. State – Sharing obscene images is a cyberbullying offence.
This case points out how difficult it is to prove the cyber crimes in a court of law owing to the conservative attitude of the judiciary.

Shivani Saxena during her period of divorce with her first husband Ishan met Karan online who later proposed her to marry her. She refused as she was still married to Ishan. Karan insisted to marry her after she is divorced.

On the pretext of introducing her to his family, he takes her to a house. Makes her unconscious and sexually abuses her. He also clicked pictured which he later used as a leverage to gain more favours.

Though the court did not allow anticipatory bail to Karan on account of him sharing the obscene images, but it also inclined towards the fact that the complainant filed the FIR only when the accused refused to marry her and the sex was consensual.
The case of Yogesh Prabhu – Stalking is punishable under 354D of the Indian Penal Code.
This was the first ever conviction secured by the Mumbai Cyber cell. The court convicted Yogesh Prabhu for stalking and sending obscene images.

A three-year term was given with a fine of 10,000 and 5,000 under Section 66E and 509 of IT Act 2008 and IPC respectively.
Hurdles in Curbing Cyberbullying
Acknowledgement
This problem has been around for two decades now. Still, the awareness about it is minimal. Schools, law enforcement and even our parents are either unaware of any such phenomenon or choose to ignore, considering it trivial. Unfortunately, the victim is left alone in this setup an often hesitates to talk. In India, due to the societal indoctrination, it is the embarrassment among adults and the fear of getting your freedom compromised especially if you are a female, stops the victim of cyberbullying from addressing the issue head-on.
Who will take up the cudgel?
Our schools and parents teach us how to behave in the physical world. But we have very little education on how to behave online. In most cases, parents dust off their hands due to their limited understanding of the new age technology or sometimes even lack of time. Schools and law enforcement take action, if any, post the trauma experience. This happens due to the lack of an environment to talk about these issues due to which the bullying slips through the cracks or is either mismanaged. It is not the prerogative of any single institution to create that environment. Only a collective effort from the community at large will result in some meaningful difference.
The anonymity of the wrongdoer
The safest way of committing a crime on the internet is by wearing a cloak of anonymity. This, however, turns out to be a difficult situation for the law enforcement and the victim in tracing the perpetrator.
Lack of Jurisdiction
Cyberbullying by nature is a global crime. The principle of territorial jurisdiction does not apply because these crimes can also be committed through a server located anywhere on the globe.
Conclusion
Cyberbullying is a battle that is being fought half-heartedly. India needs a specific legislation focused on the social media and telecommunication atrocities. More than that, discussion and dialogues regarding cyberbullying so that it results in people being educated about the issue and the plight of the victims are heard by our lawmakers.   
[1] Boyd, D.M & Ellison, N.B. (2007), Social Network Sites: Definition, History and Scholarships, 13 J. Computer-Mediated Communication, 210-230 (2007)
[2] Id
[3] India Ranks Third on Global Cyber Bullying List <http://www.endcyberbullying.org/india-ranks-third-on-global-cyber-bullying-list/ >
[4]Shreya Singhal v. Union Of India.
[5]2012 SCC OnLine Del 2673